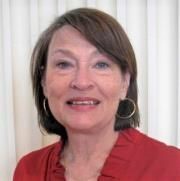 Practicing Since: 2018
Drawing on clinical experience and life experience, Rosemary builds relationships with clients based on acceptance and trust so they can feel supported while growing and facing challenges. She works diligently to choose the therapeutic techniques that best fit each client. Rosemary incorporates warmth, humor, cognitive behavioral (CBT), dialectical behavioral therapy, and motivational interviewing. She offers Mindfulness based techniques and play therapy as well as talk therapy. Rosemary welcomes children, adolescents and adults. She has completed training in T.E.A.M-CBT, EMDR, and is a Certified Child and Adolescent Trauma Professional.
While working at the Maryland State Department of Education, Rosemary earned her Master Degree in School Counseling and a Post Masters Certificate in Clinical Mental Health Counseling from Johns Hopkins University. After retirement, Rosemary worked at two outpatient mental health clinics providing counseling to clients diagnosed with persistent, severe mental illness, trauma, depression, anxiety and emotional and/or behavioral challenges. She has raised a terrific son to adulthood and enjoys hiking, sailing and kayaking.
Rosemary is licensed in the state of Maryland #LC12383.
Client Thrive Program
Credentials Earned: