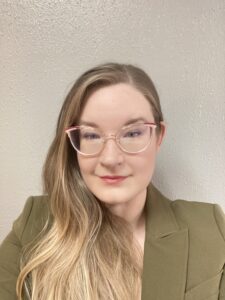 Practicing Since: 2015
Rachel believes that therapy should be a safe place where you can talk about what is meaningful to you. She strikes a balance between encouraging her clients and helping them see areas where they need to change. She is consistently amazed by the beauty and resilience of each person. Her clients and their journey to find a better life is her inspiration to continue this work.
Rachel uses an eclectic approach, pulling from several therapeutic modalities. Collaborative Problem Solving has helped her to see that everyone has a reason for doing what they do. She believes people "do well if they can" and if they aren't doing well there's usually something getting in the way. Solutions to a problem must address that concern, or else we may struggle with repeating patterns.
Rachel has lived and worked in several states. During her time working throughout the United States, she has seen the inherent value and dignity of each human being and the importance of their family history, traditions, culture, geography, and community. These experiences have shaped her to be culturally humble and curious. She is very creative and paints and crochets for fun and stress relief. Music is very important to her.
Rachel is licensed in the state of Maryland (#29933) and is under the clinical supervision of Georgina Irondi, LCSW-C (MD #20025).