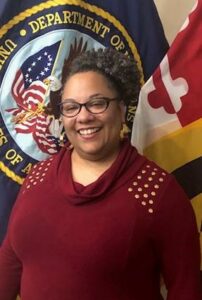 Practicing Since: 2011
Nikole has a passion for helping others navigate through life's difficulties. She aims to facilitate change in her clients' lives through creative exploration, deep discovery, and transformational insight. She believes in meeting her clients where they are and providing a safe environment for the vulnerability necessary to foster change.
Nikole earned her Bachelor of Psychology from James Madison University and her Master of Social Work from Howard University. Nikole previously joined the Department of Veteran Affairs providing mental health and substance abuse treatment to veterans. After losing her cousin to suicide, she decided to take a position as the Suicide Prevention Coordinator of the VA Maryland Health Care System. She has been with the VA for 18 years and loves working with veterans. She started her private practice in 2010 intending to provide quality mental health support and education in the community. Nikole has training in several evidence-based therapies and believes in a wholistic approach to healing. Nikole is a Licensed Clinical Social Worker with the State of Maryland Board of Social Work Examiners and a Certified Life Coach.
Nikole has been married for seventeen years. They have three children and two dogs. In her free time, she loves to do yoga, puzzles, and travel.
Nikole is licensed is the state of Maryland #17753.