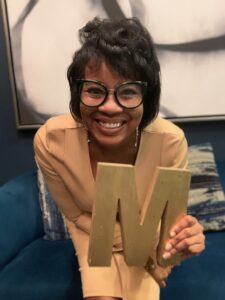 Practicing Since: 2014
Melanie's therapeutic process is comfortable and warm. Her space is an OASIS: Open And Safe InSide. Her ultimate goal is to help you cultivate a state of peace and balance. Meditation and mindfulness are unique to her practice, and clients who work with her appreciate her calm demeanor and down-to-earth spirit. Melanie believes therapeutic models like Mindfulness and Cognitive Behavior Therapy help clients find peace, hope, direction, and happiness in this life.
Melanie believes it's not by chance that you've landed here and that your change is right around the corner. She believes that Transformed Thinking Gives Birth to Complete Change. She will work with you in a peaceful environment to uncover truths that will help you gain the tools to transform your thinking.
Melanie's ideal client is you because if you're reading this, you must be ready to do the work! She offers a form of Spiritual Expressive Arts Therapy, favoring creative expression and empowerment where an atmosphere of serenity, reassurance, and transparency leads. With Melanie, you can be your true self as you discover purpose, potential, and the peace that resides within.
A southern-born Tennessean, Melanie is genteel and deeply engaged in what you care to share. Melanie received a Bachelor of Science degree from Freed-Hardeman University in 2004 and a Master of Arts degree in Psychology & Counseling from Fayetteville State University in 2008. She has been a youth and women's teacher, a national inspirational speaker, and poetic orator since 2011. She founded two women's organizations: Sisters With A Purpose Ministries (SWAP Ministries, 2011) and Survival Sisters' Peaceful Oasis (2017) an organization aimed at empowering women, educating churches, and exposing Domestic Violence. Melanie is an author, poet, blogger, and podcast host, helping women make better relationship choices, improve self-esteem, overcome anxiety and depression, and gain tools for healing from trauma.
Melanie is licensed in Maryland #LC12487.