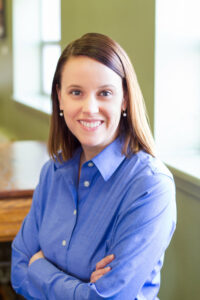 Practicing Since: 2004
Leah draws from cognitive and emotion focused frameworks to assist clients in seeing problems (and solutions) in new ways. She believes that a good working relationship with clients is the cornerstone to helping them feel better and achieving their counseling goals. Essential to this is creating an environment of safety, trust, and collaboration. Humor and creativity can also play a role in helping clients get unstuck.
Having worked in both faith-based and public settings, Leah is comfortable working with a range of spiritual issues. Some clients may be helped by focusing on deepening and strengthening their relationship with God, others may first need to spend time healing wounds acquired in the church.
Leah is eager to meet you, understand your story, and help you write the next chapter.
Leah received her Master's and PhD in Counseling & Counselor Education from The University of North Carolina at Greensboro. She moved to central Pennsylvania to teach counseling at Messiah College and now serves as the program's Assistant Director. Leah is a Licensed Professional Counselor in Pennsylvania and North Carolina as well as a Nationally Certified Counselor.
Leah has provided individual and group counseling services in a variety of inpatient and outpatient settings. She has done extensive volunteer work supporting refugees and worked internationally to further the counseling profession. She feels one of the advantages of being a counselor is getting to know people with diverse life experiences and works hard to understand the unique background of each client and family.
Leah lives with her husband and children outside of Harrisburg. She enjoys reading, traveling, cooking, and walking.
Leah is licensed in the state of Pennsylvania #PC006072.