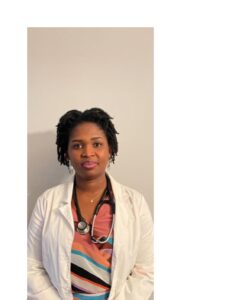 Practicing Since 2019
Frida has an extensive background of achievement in administering medical and psychiatric services with diverse populations across the lifespan. Frida can diagnose and provide treatment for a variety of psychiatric disorders including bipolar, depression, anxiety, post traumatic disorder, ADHD, personality disorders, and more.
Frida has been a nurse for 14 years. She attained her bachelor's degree in nursing in 2007. She received first master's degree in health services administration in 2014. She has been practicing as a registered nurse since 2012 and decided to further her nursing career. She went on to attain her master's degree in nursing -Family Nurse Practitioner in 2019. She practiced in primary and psychiatric health for two years and decided to expand her expertise and push her nursing education to the top level. Therefore, she enrolled for the DNP/PMHNP program with Brandman University, now UMass Global, in August 2020, and completed in 2022.
She possesses a robust career history in meeting with patients to identify medical/psychiatric needs, gather useful data and determine medical/psychiatric strategies to handle their concerns. In her years as a Nurse Practitioner, Frida has built a solid track record of success in the areas of psychiatric and family medicine, team management, and flawless executions of patient care. Her focus on these specialties will allow her to provide expert medical services to her patients.
Frida enjoys functioning as a presenter, liaison, and leader—her patients continually recognize her for her attention to details and her ability to actively listen to and address their concerns with a fresh yet grounded approach to medical treatments and working within the medical guidelines to achieve their treatment objectives.
She believes that psychotherapy is a collaborative treatment based on the relationship between an individual and their treating provider. Grounded in dialogue, it provides a supportive environment that allows you to talk openly with someone who's objective, neutral, and nonjudgmental. In working with Frida, the client will learn how to identify and change the thoughts and behavior patterns that are keeping them from feeling their best.
By using the skills learned, it is the hope that clients will not only have solved the problem that brought them in, but they will have learned new skills to help them better cope with whatever challenges arise in the future.
Frida is married and has four daughters. She is very family oriented and is always determined to work hard as a good example for her kids. Frida's most favorite moment is going on fun trips with her family.