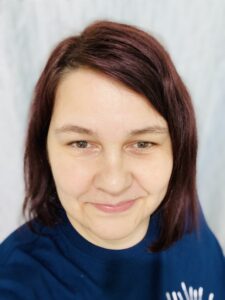 Practicing Since: 2021
Evelyn creates space where her clients feel comfortable and safe to talk about even the most difficult topics. Children are welcome as she creates a fun and playful environment, letting them lead the conversation. Evelyn chooses to focus on the strengths of a client and how they can be used to overcome obstacles.
The healing process can be long but, rewarding and freeing. Evelyn believes that therapy aides in wholeness and healing. She has found that confronting guilt and other issues that can be complex while learning to let go is freeing. Letting all that go allows one to be the best healthy version of themselves.
Evelyn is interested in furthering her specialization to include treating complex trauma.
She is married and has two children and two cats. Evelyn loves to read, do puzzles and spend lots of time outdoors.
Evelyn is licensed in the state of Virginia (#VA0704014569) and is under the clinical supervision of LeeAnn Gumulauskas, LCPC (VA license #0701008515).