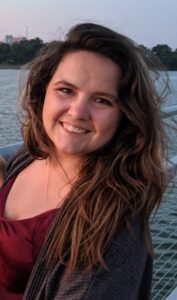 Practicing Since: 2022
Elizabeth practices a combination of evident-based treatment modalities. She determines the appropriate modality collaboratively with the individuals and, when correct, with families or support systems. She uses a strengths-based approach to help individuals recognize their strengths and abilities. She utilizes cognitive-behavioral interventions to help individuals build autonomy and self-confidence and guides them as they take control of their situations and understand symptoms and triggers.
While completing her master's degree in Clinical Social Work, Elizabeth had gained additional training and certifications in crisis intervention, trauma-informed care, motivational interviewing, cognitive-behavioral therapy (CBT), and emergency medical response.
Elizabeth spends her free time exploring nature with her dog, enjoying a good cup of coffee, and traveling.
Elizabeth is licensed in the state of Maryland (#29607) and is under the supervision of JaVon Townsend, LCSW-C (Maryland #18669).