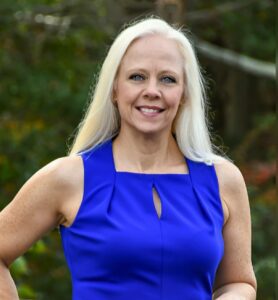 Practicing Since: 1996
Denise utilizes a holistic therapeutic approach, incorporating emotional, physical, and spiritual aspects of wellness. Denise believes that as unique whole beings, when one area has been wounded, all other areas are impacted. Denise seeks to create a safe space for clients to gain understanding and achieve healing and wellness through the application of spiritual principles and use of clinical and physical modalities.
Denise received her BA in Social Work and Sociology from Gannon University and her MS in Social Administration/Mental Health from Case Western Reserve University. Denise has many years of experience working in behavioral health, health, wellness and nutrition. She holds certificates as a Dementia Practitioner and BCAT Professional and has 13 years of experience working with seniors and elder health/issues. She has extensive experience working in child welfare, providing support to children, parents, and foster parents. Denise has spent much of her professional career educating, mentoring, and developing clinical programs to best support clients. Denise is skilled in: CBT, DBT, REBT, EMDR, DISC, Behavioral Assessments.
Denise is licensed in the state of Maryland #27793.