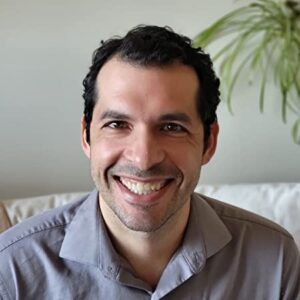 Practicing Since:2021
Ben creates a safe space so that clients feel comfortable working through difficult issues. His primary modality is Intensive Short-Term Dynamic Psychotherapy, which is an experiential therapy focusing on what is happening during the session. He helps clients notice what is going on, in the moment, so they can identify the internal mechanisms that have been causing them harm. Through collaboration, he helps clients make corrections to decrease harmful mechanisms and painful anxiety.
Ben helps clients focus on and understand the internal problem they wish to work on, and simultaneously the positive goals they want for themselves.
Ben is a published author and enjoys writing stories, novels, and screenplays. He also plays the guitar, travels with his wife to treehouses around the world, and rides his bike on the many trails in his area.
Ben is licensed in the state of Virginia (VA license #0704014882) and is under the clinical supervision of Stacey Crosson, LMFT (VA license #0717001506).