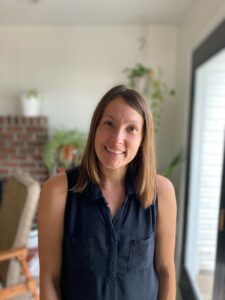 Practicing Since: 2005
Amanda is a registered and board-certified Art Therapist and a Licensed Professional Counselor. She uses a combination of traditional talk therapy as well as the creative process to help improve and enhance the physical, mental, emotional, and spiritual well-being of her clients. Sessions provide a safe environment where there is freedom to express thoughts and feelings, explore areas of stress and trouble, and space to develop positive coping skills and healthy living practices for the future.
Amanda received her Masters in Art Therapy Counseling from Southern Illinois University Edwardsville. She has been working in private practice for 10 years. She loves natural remedies, the outdoors, and art making. Amanda is married and a mother of three children – two biological and one adopted.
Amanda is licensed in the state of Maryland #LC4827.
Client Thrive Program: