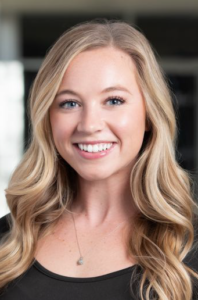 Practicing Since: 2020
Ashton's goal is to create a safe space, free of judgment and expectations, which welcomes curiosity and encourages openness, exploration, and growth. Clients that work with Ashton can benefit from some of the modalities that she is using which include Strengths-Perspective, Motivational Interviewing, and Cognitive Behavioral Therapy. Ashton believes that these modalities help clients focus on building knowledge of their own strengths so that they can use these innate skills to solve some of life's difficult situations. Additionally, these modalities can help clients better understand how their thoughts shape their environment and how their reaction to the environment can also shape their thoughts.
She holds a bachelor's degree in Applied Health Science, where she majored in Families and Human Development and minored in Psychology. Ashton previously worked as a Registered Behavioral Technician where she provided children with Autism behavior therapy in a clinic, home, and school setting. She has spent the greater part of her career in child welfare where she led a team of caseworkers whose goal was to create a safe home environment by working alongside the family addressing individual and family level challenges. She is certified in Solution Based Casework, an evidence-informed casework practice model that focuses on pragmatic solutions to demanding situations in the child welfare arena. Ashton has worked with children, adults, couples, and the entire family unit to identify difficult situations and build upon family strengths to cope with situations in a safer way.
Ashton is a midwestern gal but has recently moved west. There is a famous quote that says, "the mountains are calling, and I am home," which certainly rings true for Ashton. She feels most at peace while in nature; hiking, camping, or exploring of any kind. When she is not exploring, she enjoys cozying up with a good fiction novel that sweeps her away from real life and into the lives of the characters in the book.
She is currently working on her MSW and under the clinical supervision of Steve Osterhout, LCSW-C, license # 09238.
Client Thrive Program
Credentials Earned