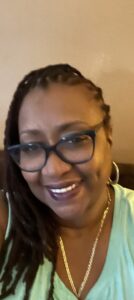 Practicing Since: 1992
Sharelle believes each client is as unique as their fingerprint. Using a holistic approach, she encourages sharing by creating a warm, nurturing, safe, and non-judgmental space for this to occur. Together, with the client, Sharelle designs a treatment approach such as CBT, ACT, and EMDR to aid in the healing process.
In addition to her master's in Social Work, Sharelle is a board-approved provisional Domestic Violence Trainer, a licensed Certified Alcohol and Drug supervisor, and is also certified Trauma-Informed.
Sharelle is the proud mother of 4 sons and 6 grandchildren. In addition to making candles & jewelry, her favorite hobbies are cooking, writing, reading, and swimming.
Sharelle is licensed in the state of Maryland (#16868