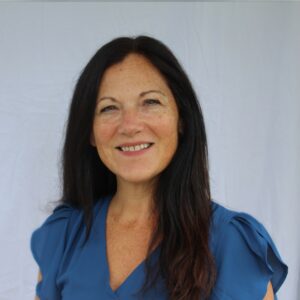 Practicing Since: 1995
Sarah has worked with children, adolescents, and their families in both private practice and community mental health centers. Sarah uses Cognitive-Behavioral techniques within a trusting, warm therapeutic relationship to address issues affecting children and their families. She uses the identification of family patterns to help each member thrive in their relationships. Due to experience treating children in foster care, she is skilled in addressing trauma including physical, emotional and sexual abuse, and neglect.
Sarah has specialized training in directive and non-directive play therapy techniques, as well as sand tray therapy and mindfulness techniques for children and adolescents. She believes in the power of therapeutic play in the healing of the children she sees. She also uses Cognitive-Behavioral techniques from DBT, finding them helpful especially with her adolescent clients. Sarah has extensive experience encouraging and teaching parents how best to help their own children. She has a passion for helping single parents and blended families thrive. She has a Ph.D. in counseling and is currently licensed in MD as a professional counselor.
Dr. Thiessen is licensed in the state of Maryland #LC9546.