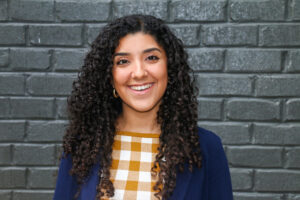 Practicing Since: 2018
Priscila strives to create a safe space where clients feel heard, and their feelings validated. She meets clients in their current stage in life and helps them to navigate through their challenging thoughts and experiences. Sessions will also help clients better understand their inner world such as their thought patterns, triggers, and coping strategies.
Priscila views mental health as an internal fuel tank that processes productivity, new opportunities, meaningful relationships, and feelings of fulfillment. When our fuel is empty or on reserve it can feel like an obstacle to meeting responsibilities, remaining present in daily life activities, and finding joy in yourself and in others. The therapeutic process helps clients identify elements that are draining your energy and provides a safe environment to explore thoughts or habits that could elicit positive life changes.
Priscila is from Peru but has been raised in Virginia. She is married and loves to cook, sing, and try new things. She finds adventure in anything, such as going to a new restaurant, hiking on a new trail, or signing up for fun classes with friends.
Priscila is a licensed Supervisee in Clinical Social Work (#0906013897) in the state of Virginia. She is supervised by Mary Dolby-McDonald, LCSW (#0904003530).