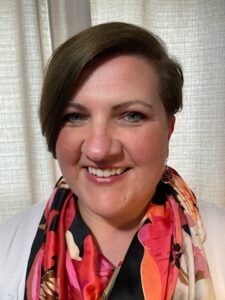 Practicing Since: 1999
Maggie believes the core of the therapeutic process emphasizes mutual development of therapeutic goals and the opportunity to reflect on clients past and present strengths and accomplishments. Clients can expect a whole-person, strength based, person centered approach with an emphasis on integrative whole health approaches to treatment.
This allows for the space to successfully examine the best support interventions for each individual client. Maggie's theory practice is rooted in a mindfulness philosophy of awareness and cultivating these key areas with clients:
· Bringing attention to cultivate awareness (and return to it again and again
· Bring attention to what is occurring in the present moment (simply observing thoughts, feelings, sensations as they arise)
· Nurture attitude that is non-judgmental, curious, and kind.
Maggie has over 20 years of broad range of clinical experience and has additional training in mindfulness-based stress reduction.
She is married and has 2 sons, 2 dogs, and 1cat. Maggie enjoys reading historical fictions and murder mysteries, hiking, jogging, fostering beagles and watching copious amounts of HGTV and comedy specials.
Maggie is licensed in the state of Maryland (MD 12506).