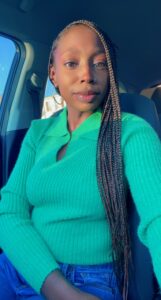 Practicing Since: 2022
Jamequa likes to create a relaxed and comfortable environment for her clients, where conversations in session flow just like that between old friends. She will show vulnerability, where two people come together who both don't have all the answers, but will work together to work through and achieve the desired outcome for her client's life.
Jamequa believes that our mental health is just as strong as our physical health, and the more we pour into our mental health, the better we will feel long-term and the more we will get out of the therapeutic process. The therapeutic process is also just that: a process. There will be progress, but also setbacks, just as there is in life. Jamequa will help set expectations, process any setbacks, learn from them to strive towards progress, and celebrate successes with her clients.
Currently working towards her MSW degree, Jamequa is open to learning all she can while making her way into the counseling profession.
Juggling school and work keeps Jamequa relatively busy, but when she does find the spare time, she enjoys spending time with her family and friends, relaxing with a good book, and soaking up the sun outdoors.
Jamequa Harris is under the clinical supervision of Stefanie Plitt, LCSW-C (#16101).