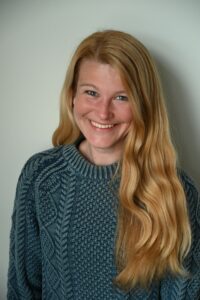 Practicing Since: 2017
When working with Erin, clients can anticipate feeling empowered to realize their strengths, build resilience and find meaning through challenges with evidence-informed strategies tailored to their individualized goals and values. Erin integrates cognitive-behavioral and acceptance-commitment strategies to holistically promote the client's well-being through a trauma-informed framework. Clients will practice using neuroscience-based tools for coping with life's stressors including mindfulness techniques and developing the mind-body connection. You can expect Erin to have an inclusive, family-centered approach to care that also considers the role of the human-animal bond with the pets in your home. Erin especially enjoys working with children and adolescents to build sustainable stress-management and emotional-regulation practices to adapt to transitions, conflict, and academic pressures with improved confidence and self-esteem.
Erin earned a Master of Social Work in Clinical Behavioral Health from the University of Maryland and an undergraduate degree from the College of William and Mary. She has advanced training in animal-assisted and nature-based therapies with post-graduate certificates in veterinary social work from the University of Tennessee and equine-assisted mental health from the University of Denver. She completed a fellowship at the National Institutes of Health studying traumatic stress in patients with oncology diagnoses and trained on the Anne Arundel Mobile Crisis Team. She has served diverse clientele across the lifespan as a clinician at Maryland Therapeutic Riding, including veterans, and children with disabilities. Her work at the Johns Hopkins Burn and Trauma Center and Friendship Hospital for Animals promote her expertise in early interventions for trauma exposure and grief and bereavement for both human and animal-related losses.
Erin addresses additional issues including: pet loss, academic stressors, distress related to medical/veterinary decision making, caregiving stress, and compassion fatigue.
Erin enjoys spending time in nature riding horses, trail running, and paddle-boarding with dogs. She volunteers with the National Park Service and the Baltimore Family Crisis Center. Erin is a Registered Yoga Teacher, Wilderness First Responder, and Certified Therapeutic Riding Instructor.
Erin is licensed in the state of Maryland #24923.