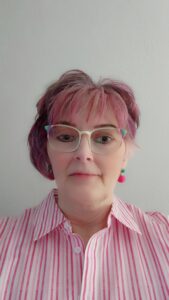 Practicing Since: 1996
Cynthia's goal as a therapist is to create a warm and welcoming space where her clients feel safe to talk about both their challenges, and their strengths. She strives to give them the tools to be successful- whatever success might look like for each individual.
She views taking care of one's mental health to be just as important as taking care of one's physical help, and that treatment plans should be tailored uniquely to each individual.
Having worked in the social work field since 1998, Cynthia comes with a multitude of experience, and has specifically served those in nursing home and hospice settings.
Cynthia is a loving mother/stepmother to her daughter and step-son, and is a big animal lover with three rescue dogs of her own. She is also passionate about genealogy, and when she can find the time, works to add to her current database of about 200,000 people. Cynthia Muggli is under the clinical supervision of Stephen Osterhout, LCSW-C Maryland (#09238).