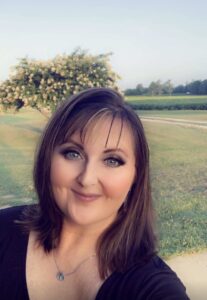 Practicing Since:2019
Cristyl seeks to create a warm, empathetic, confidential, and judgment-free space for you to feel safe as you process emotions and experiences and find strength in your resilience. Her therapy work focuses on whole-person wellness which includes finding balance in all areas of life. Treatment modalities are based on individual client needs, but the most frequently used are Cognitive Behavioral Therapy, Dialectical Behavioral Therapy, Motivational Interviewing, Polyvagal Therapy, Person-Centered Therapy, and Positive Psychology.
Cristyl views the therapeutic process as a partnership requiring mutual trust, respect, honesty, communication, and commitment to do the work. She believes that childhood development and experiences that have shaped us are crucial to understanding who we have become.
Cristyl graduated from Virginia Tech in 2000 with a B.S. in Psychology. In 2002, she earned an M.S in Counseling from Longwood University. She earned a PreK-3 Early Childhood Education License and began teaching in high-poverty schools in southern Virginia. Cristyl taught primary school for 11 years before returning to higher education to earn her license as a PreK-12 Music Educator and High School Musical Vocal Director. In 2019, Cristyl completed coursework for her License as a Professional Counselor, Certified Substance Use Counselor, and Certified Sex Offender Treatment Practitioner.

Cristyl has specialized training in Substance Use, American Society of Addiction Medicine, Sex Offender Treatment, Collaborative Assessment and Management of Suicide Prevention, Trauma, Dialectical Behavior Therapy, Childhood Behavior, and Intelligence Testing.
Cristyl has been married for more than 20 years and has two sons. She enjoys singing, reading, playing instruments, doing things with her friends and family, and watching her sons play sports.
Cristyl is licensed in the state of Virginia (#0704014260) and is under the clinical supervision of Stacey Crosson, LMFT (VA license #0717001506).