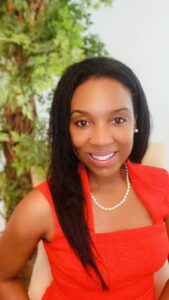 Practicing Since: 2010
Are you feeling anxiety? Are work-life or couples issues overwhelming you? Candace is here to help you in your journey as you navigate the challenges and to celebrate your wins. As a client, you can expect a warm, client-centered environment where Candace will meet you where you are in the process. She believes in your ability to change and will help you along the way. You are stronger than you know! Candace provides mind-body, brain-based, and solution-focused therapy to clients who are motivated and ready to engage.
Candace's passion and purpose is to help reduce the negative influence of mental health challenges on individuals' self-efficacy and physical health. She aims to provide hope to those who have stopped believing in their ability to heal, grow, or change.
Candace holds a PhD in Business Psychology, where she focuses on occupational and employee wellness in organizations. She is also certified in mental health first aid through the National Council for Mental Wellness and has trained to become an instructor to teach the curriculum to others. In the belief that therapists should continually aim to increase their multicultural competence to serve their clients with the highest integrity, she has received a Diversity, Equity, and Inclusion in the Workplace certificate.
Candace is a certified Neuropsychotherapy Clinician (NPT-C) and is also trained in the practice of Brainspotting and EFT Tapping.
Candace is married to an amazing husband and has 2 beautiful little girls. In her spare time, she loves to cook new recipes, travel near and far, kickbox, and read many genres of fiction books.
Candace is licensed in the state of Maryland (LC14348).
Client Thrive Program
Credentials Earned: